Buick. Yes, that's right, you read it correctly. The first word of a driving impression of the new Acura 3.2TL Type-S is "Buick." As in, first impression: Buick. Now before you fire off a nasty missive, recognize that we're complimenting the luxo-Honda.

General Motors is dropping its plan to build the Buick Signia and Pontiac Banner sport wagons on a longer-wheelbase version of GM's global midsize front-drive Epsilon platform

To Read more about these stories go to http://www.autoweek.com



Custom Car of the day!!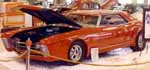 Only a little more time to enter into the 50/50 Raffle. Support this site and sign up today!!