General Motors will shake up Buick's stodgy lineup by turning the Bengal concept into a production vehicle.

Industry sources say the company's North American Strategy Board has approved production of the front-drive, four-passenger convertible, possibly late in 2003, although 2004 appears more likely. The concept has taken several styling cues from Buicks of the 1940s and 1950s.

The decision to produce the Bengal comes as Buick dealers wrestle with slumping sales and an aging car line. Until the launch of the 2002 Rendezvous sport wagon in May, the lineup consisted of four four-door sedans. Two of those sedans, the Regal and Century, share sheet metal.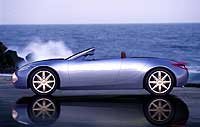 Special Thanks to for finding this news story!!
More to read click on link below!
Story by RICK KRANZ at autonews.com http://www.autonews.com/html/main/stories0709/buick709.htm